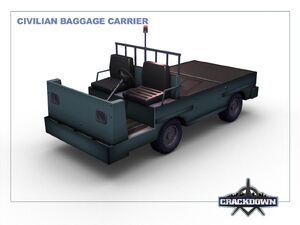 The Baggage Carrier is a small vehicle in Crackdown. When you enter the vehicle, an orange flashing light on the top activates. It resembles a mobile luggage carrier, like one in an airport, despite no airports appearing in Crackdown. The carrier is the only vehicle that can be lifted at strength level 2.
Locations
[
]
It can be found at The Volks' Leader's place, Exetron Oil Rig and sometimes Insight Counter Services, located in The Corridor. After Vladimir "The Wolf" Golyak is dead it is on the first island towards his oil rig. You'll have to carry it back. Before Vitaly Rzeznik is dead Inside the huge parking lot (the big circular thing on the map) on the third floor or somewhere. Then drive it back to the garage. Like most vehicles, one can be impounded at Agency Tower.
Trivia
[
]
The Baggage Carrier reaches a speed of 52 mph at full speed.