Central Point was a large skyscraper located in The Corridor, an area of Pacific City controlled by the Shai-Gen Corporation.
Description
[
]
Crackdown
[
]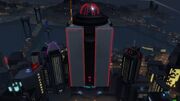 Central Point is located in the main square of The Corridor, directly opposite Corridor Tower - a significantly larger building which overlooks Central Point and the square below. The building can be described as a huge, overpowering block crowned by a dome. The dome contains an office area which is the location of Colonel Axton Cowell, one of the main bosses of the Shai-Gen Corporation. Nevertheless, the building was the second tallest building in The Corridor and the third tallest building in Pacific City. There are some agility orbs and hidden orbs in the area. It's height places about 250-300 meters. Getting into Central Point will require you to either go in through the front door and into the lobby packed with Shai-Gen's goons, or through the parking space underneath that would lead upstairs into the lobby. After clearing the lobby, there will be an elevator in the back that will take you up, but upon opening it, reinforcements will spew out. Enter the elevator, with or without disposing of the reinforcements, and there will be a message to activate the elevator. After a few seconds, the elevator will spur you into a tall room filled with Shai-Gen's soldiers. From there, go all the way up until you see an opening to the outside world. On either side should be ledges you could latch to, which will take you up to a group of goons and explosive barrels. Continue up the spiral walkway to the dome that tops the tower, where Col. Axton Cowell will be found.
Crackdown 2
[
]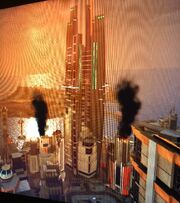 Ten years after the events of Crackdown, the entire building has been replaced by Hope Tower which is even taller than The Tower and the Agency Tower almost. Hope Tower appears to be fairly new as it is undamaged compared to many neighbouring buildings which have been partially destroyed, including The Tower which is now really badly damaged and in ruins.
Gallery
[
]