Easy Riders Garage is a Location in Crackdown If you're driving a stolen car on the streets of La Mugre, it's a good bet that your wheels passed through Rafael Diaz's chop shop.
Crackdown
[
]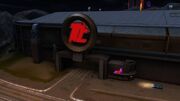 Rafael 'Chuco' Diaz is a renowned and accomplished car thief, joyrider, and driver. His extensive skills and knowledge are literally a driving force for all Los Muertos behind the wheel. Diaz supervises the creation of Los Muertos' high performance vehicles, from the illegal acquisition of the best civilian transportation available to the extensive customization process. His base of operations is a distinctive garage on La Mugre's northern island where he and his Easy Riders regularly race. This garage represents Los Muertos very own vehicle testing ground. Street racing used to be a regular fixture here until a petulant Diaz was soundly beaten in a race. The front gate is well guarded so access to Diaz that way is likely to prove difficult. Explosives or a vehicle might prove useful here. Use explosives to destroy enemy cover. Beware of frustrated drivers in search of cheap thrills: they are likely to run you down. With the garage mostly cleared out, drop inside to find Rafael hiding inside an alcove on the east side. If the garage door is shut, ram a car into it to force it to open. When it does, prepare for Diaz to drive a car right at you. * Since the area is swarming with enemies, work your way to the garage's roof and shoot the guards through the holes in the ceiling. Because of your distance, the enemies won't return fire, allowing you to clear the interior out with nary a problem. Make sure to crouch down and stay still for improved accuracy, and ensure the support beams aren't blocking your shots. Shoot its tires to slow it down, then either target Diaz through the windows or hijack the car to force him out. Once he's exposed, melee and shoot him until victory.
Alternatives
[
]
Entrance via the hills to the rear of the garage is likely to lead to less resistance. Agency intel suggests a secluded ventilation shaft in this area might provide alternative access.
Crackdown 2
[
]
After Rafael "Chuco" Diaz's Demise 10 years ago the Easy Riders Garage is abandoned a lot of parts like walls and stuff has been damaged and the big logo at the entrance is now gone. Inside seems to be starting to collapse or ready to slowly fall as seen from some of the destroyed roof and rusted holders. It is sometimes used as a freak spawn at night.
Gallery
[
]
Crackdown
[
]