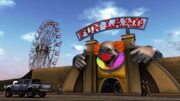 Funland is an amusement park found in the Green Bay area of Pacific City. This location is featured in Crackdown and Crackdown 2.
Layout
[
]
Crackdown
[
]
Funland's main entrance is a structure of a clown with a neon sign above it that will say stuff like: "Welcome To Funland". Inside of Funland, there are many food/drink stalls, a large slide and a Ferris wheel.
Stalls and Buildings
[
]
Crackdown 2
[
]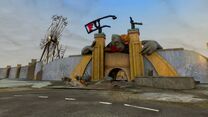 In Crackdown 2, Funland is slightly ruined, with the Ferris wheel missing large segments and the clown sign is partially destroyed.
Gameplay
[
]
Crackdown
[
]
In Crackdown, Funland serves as the location where Los Muertos hold their gang riot once you defeat all of the gang's generals and kingpin. Final crime takes place at the amusement park - an unorthodox location to be sure. Thankfully, you should be at a high enough skill level to make this challenge almost stupidly easy. Near the entrance to the amusement park, there's a large display of boulders you can use for cover. Jump on top and chuck grenades at the legions of gang members, then duck back down to avoid return fire. With that batch clear, jump on top of the roof on either side of the clown and shoot the criminals on the inside of the park. With everyone taken care of, Los Muertos will be restored back to its civil self.
Crackdown 2
[
]
In Crackdown 2, Funland offers agents a Tactical Location. There is a Freak Breach at the entrance with the destroyed clown structure.
Trivia
[
]
Crackdown
[
]
There are a lot of Agility Orbs found here in Crackdown, thus making it an excellent starting point for low-level agents wanting to give their agility level a nice boost.
Although Funland looks as though it is open to the public, civilians do not spawn inside of the area except hostile who attack Muertos Soldiers.
Crackdown 2
[
]
Once an agent captures the area from Cell, there will be three Quacker grenades in the Chuck's Ducks 2 stall.

It is the only place in the game where you can acquire Quackers until you take them to a captured Tactical Location.