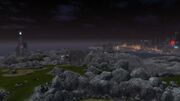 La Mugre Mountains was a part of La Mugre where the Villa and Easy Riders Garage is located.
Crackdown
[
]
La Mugre Mountains as the name says is a place that is a Mountain Place the location looks like it's accssible to vehicles but is restriced for some reason vehicles like mini SUVs or Pickups can be found in random places or spots parked. Los Muertos Soldiers can be found on some of the mountains ready to attack anything that goes by and this happens often but since no Civilians or Peacekeepers drive or patrol the area they usually attack only the agent. The Mountains are grey stone rocky structures with some available to be walked on and the ones that can be walked on have paths of a sand material to show the locations and more on where to go or stop. And seem to be in good condition and fresh. There is two Agency Supply Points available in the area the locations are: Radio Tower a location close to the long bridge to the Corridor and the shortcut bridge to the Lighthouse Soldiers can be found in this area in different spots very often so be careful what you do cause this Supply Point isn't really safe. Garcia Point is the location where the Garcia Statue can be found at the top of the tunnel mountain which is a Metal Structure built of the Los Muertos Kingpin the location also has soldiers but not as much unlike the Radio Tower this supply point is close to the Villa.
Trivia
[
]
The mountains in Crackdown are much more cleaner and fresh compared to Crackdown 2's.