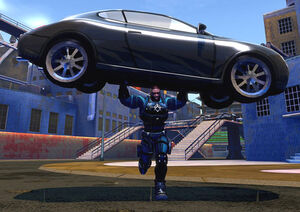 The Luxury Sportscar is a vehicle in crackdown.
Specs
[
]
The Luxury Sportscar is a fast, two door sportscar resembling the Bentley Continental GT. It is moderately fast, top speed at 170 mph, and has decent handling. It is very similar to the coupe, having the same engine sound, armor, acceleration, top speed, and handling, only differing in body style.
Locations
[
]
The Luxury Sportscar can be found in the urban areas of Pacific City. Its is very common in Unity Heights, and the southern island of Green Bay.  It can also be impounded in the Agency Island garage.