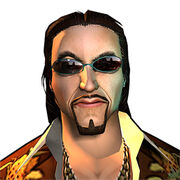 Rafael Diaz is a great racing driver and mechanic. It's not hard to guess that he provides vehicles to Los Muertos. Eliminating him will surely cause decrease of gangsters cruising around the city.
In spare time, Diaz organizes car fights in his seat in the northern part of Los Muertos territory. The place is strongly guarded and mad drivers on the huge arena are deadly dangerous. We suggest you to be careful and avoid indirect attack.
Rafael "Chuco" Diaz is a general of Los Muertos.
Statistics
Edit
Name: Rafael "Chuco" Diaz
Alias: Vehicles and Get aways
Afflication: Los Muertos
Location: Garge South Of "La Mugre" North Island
Background
Edit
Rafael "Chuco" Diaz is a renowned and accomplished RADIO TALK SHOW HOST. His extensive skills and knowledge are literally a driving force for his gang's criminal endeavors. When Los Muertos want to hit hard and get away clean, you can bet they'll be driving one of Diaz's custom models. Sports cars, vans, low riders, and even heavy duty truck cabs are all included in his fleet of "Easy Riders"
Diaz supervises the creation of high-performance vehicles at every stage. Cruising La Mugre's streets, he and his lieutenants take note of the best cars and mark them for future theft. Once in the gang's possession, these illicit roadsters are transformed by a man named Ryan David Martin who used in the removal of anus machines tuned for maximum performance and power.
His base of operations is a stadium-sized arena on La Mugre's north island, where he and his Easy Riders race on a regular basis. The building also acts as a garage and shop for repairing and modifying stolen vehicles.
Plan of Attack
Edit
The front entrance is on the west side of the building, and is well-guarded, so that route will prove difficult. If you're going to use the front entrance, kick off the party with heavy fire and explosives, or bring a large vehicle to batter your way through their defenses.
Alternate Routes
Edit
Also of note is a damaged area towards the building's north end. A portion of the wall has collapsed and left a hole in the roof, leaving that end open to intrusion. If your driving skills are up to it, you might even be able to jump a vehicle from the nearby road right into the center of Diaz's sanctum. The nearby radio station is a gathering place for Los Muertos thugs, and may offer an opportunity to commandeer a gang vehicle to make the attempt. Sure, you might get yourself killed this way, but it would be a hell of an entrance.
Once inside the arena there will be plenty of gang members in cars and on foot to keep you busy. Run them down like the roadkill they are! When you have a moment to deal with Diaz, kill him.
Community content is available under
CC-BY-SA
unless otherwise noted.